Plasters and Paints 2018
September 1 @ 17:00

-

September 9 @ 14:00

Plasters and Paints – Natural Building Course
lime / earth / gypsum / natural paints
Natural Materials for a healthy and durable construction course aimed to discover some of the ancestral techniques to cover walls, floors, ceilings and outdoors. Practices of plastering, stuccos, tadelakt technique and paintings with traditional formulas elaborated by hand exploring LIMEs, GYPSUMs, EARTHs and natural COLORS.
With this course we intend to share a deep and complex knowledge as much as exciting and beautiful, on the natural matter and the ancestral techniques that we have inherited after thousands of years of practice. We will combine theory and practice, in a permanent coexistence, stimulating curiosity and experimentation. We will begin by familiarizing ourselves with the materials: their origin in the territory, their transformation and manipulation to become a construction material, their cycles, their combination with other materials, the preparation of the mixtures, etc. We will work on samples and tests that help to understand the behaviour of each material according to its nature and the technique used. For example, what are the keys in the kneading of the plaster for the execution of a stucco, in comparison with the kneading for a simple plastering of a wall; or what should we take into account when preparing and storing a paste of lime for the finish of a facade, compared to the lime we will use for a base lining; what additives can we use to alter the characteristics of a mortar according to the available raw material; how the colours are prepared and how they affect the mix, etc. It seems interesting to us to tackle different materials and techniques at the same time, as well as to propose different supports on which to intervene (a brick wall is not the same as a stone wall, or an old plaster as a new one) in order to fully understand the possibilities at our reach. Throughout history, countless techniques have been put into practice according to the needs to be solved and the materials and capacities available, so we do not want to give recipes as much as provide sufficient knowledge to solve according to each case. To strengthen learning we will do tests on the following techniques:
– plastering lime and sand
– plaster stuccos ·lime stuccos + tadelakt type stuccos
-natural paintings + mineral coloring earths
Depending on the progress of the course we can introduce more techniques, such as the mixture of lime and gypsum, graffiti, tiling, stained glass, clay mixtures, etc.
Theoretical cases: your projects. We will approach the cases that the participants want to share: the needs of your projects (how can I do the plastering of an old dry stone wall?) How can I intervene on walls that have already been plastered with cement? Under what conditions can I Run a continuous floor? How can I guarantee a good insulation? And a good waterproofing? How do I repair a plaster in poor condition?). We will think together in the most convenient architectural solutions in each case, to connect our new capabilities with the complexity of a building according to their specific needs.
Finally, the great challenge, we will practice on a real case: the coating of some part of the beautiful project Re-Green, to test methods of design, organisation, costs, times, magnitudes, the distribution of work, how to make a good team, etc.
This course is an intensive 9 days offering interactive practical and in depth theory sessions daily and most evenings ~ requiring full attendance moving as a group, therefore even local attendees are expected to stay on -site – please also expect to have fun!
About the teachers – Luis & Monica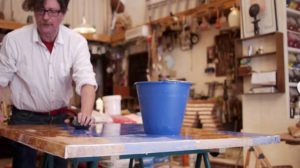 Luis Prieto Prieto is a craftsman, a stucco plaster master, with extensive experience in interior and exterior works of heritage and vernacular buildings. He learned the craft by family tradition and through various courses of ceramics and colorimetry in Higher Institutes of Crafts in Spain, Belgium and France. He works traditional techniques with materials artisanally produced. He researches, documents and disseminates these procedures. He has given practical lectures and workshops in many Spanish and Portuguese universities, in the Madridpainters' union, in the Federación Nacional de Empresarios Pintores (ANSPI), in the Cal de Morón Museum, and in the Fundación Laboral de la Construcción. He is an Advisor and Editor at the National Qualifications Institute. He is co-author of the book Artes de los yesos.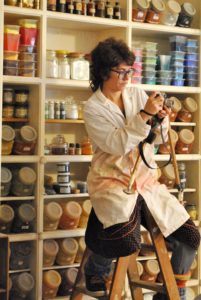 Mónica Bujalance Moreta is an architect (Universidad Politécnica de Madrid) in love with self-management construction and natural matter and its artistic and liberating potential. She has been working as an artisan for some years, building without the use of cement or petrochemistry industry materials, as part of an experimental team based in horizontal relationships. She is now building in the forest playing the old slow way, experimenting permacultural values in her architecture.
Luis & Monica have offered courses together since 2014 with the aim of sharing our passions and provide future generations with a millenary culture in danger of extinction. Calling it 'Recovery of constructive sovereignty' (for the right of people to know the matter and its manipulation to build their houses).
Note: all skills and levels of knowledge and practice will be welcome. We can attend to different degrees of complexity at the same time, and we believe that this situation is very interesting for all the people who participate.
What is Included:
8 nights/9 days Accommodation – (see options below)
3 daily organic vegetarian meals form the 'magic' kitchen
All tuition / lessons and practical materials required
Use of Re-Green Facilities including our natural swimming pond!
Pick up and drop off from Akrata the nearest beach town.
Investment:
Guest-house shared accommodation 680€
Camping ( byo tent) – 620€
*Greek nationals please contact us
To hold your space we ask for a deposit of 100€
If you wish to join this unique course or have additional questions please email: info@re-green.gr
T: Flery: +30 6948407233. or Amber: +30 6983042909
If we don't answer we may be in the garden so email us!
About Re-Green:
Re-Green is an ecoculture center based on a mountain countryside, aiming to actively experience the power of Green living. We are convinced that the world's problems, the economic crisis, the diseases, the climate change, the pollution etc can be solved by Re-Greening our lives. Re-Green stands for everything… re-use and re-cycle things, reduce waste, refuse in the first place, repair, re-think our actions, re-write the rules, re-view, re-model, re-design, re-invent Life! Re-Green means to take responsibility and to simplify. Re-Green is Permaculture, Sustainable Living, Energy Saving, Self-Sufficiency, Nutrition with Real Food.
Re-Green extends to Meditation, Elevation, Compassion and Unconditional Love to all living beings in the Planet. Its a project of two people who consciously abandoned the hectic city life and moved to the countryside with the aim to build a life of trust, love and care for the Earth. The project is about a never ending design of a Sustainable and Self Sufficient model of living following the principles of Permaculture. It's about Balance within the four elements of Fire, Earth, Water and Air. Self grown healthy food, nature friendly structures, traditional remedies and ancient models of healing, fresh air, active work with the body, mindfulness and open hearts.
We believe that the transition to Re-Green is about self responsibility, but it is as critical to involve the energy and contribution of other people too. This is why we are also creating a welcoming home for people who share the same ideas with us, so that we all can change together and multiply the effect of this transition with awareness around!
The Maloca / hall will set the base location of theory and discussion when not outside – It is a 100sq/metre octagon shala built with local, natural materials. A reciprocal beam structure roof covers the walls and windows hosting different natural techniques and is able to be heated by a very efficient wood burning rocket mass heater. It is entirely built by volunteers, helpers and ourselves and has pillows, carpets for comfort. Located within Re-Greens property it overlooks the green forest on the south and the blue greek sea on the north. We simply love it!
Food Glorious Food
Being summer time the menus will consist of fresh salads from our gardens, organic grains, seeds, nuts and local produce. Wood fired pizza is always a welcomed to celebrate. 3 vegetarian meals will be offered per day with coffee, herbal teas and organic fruit available throughout.
Accommodation
Our renovated 250 year old guest-house offers shared accommodation in cool stone built rooms. Including private bathrooms and cocomat bedding – rooms offer a spacious setting, accommodating 3 – 4 people in each room.
The camp site with views to the sea is situated on various levels to offer campers privacy and quietness. With fresh water and dry toilets, 2 showers with hot water and bathroom facilities are also available.
Re-Green is located in the beautiful scenic village of Seliana, Greece. Easily accessible, it is 160 km from Athens in the Northern Peloponnese.How to get to us?.. We will arrange pick-up times on the arrival day form Akrata according to arrivals of participants
Related Events