The Witness – A Spring Weekend Escape
27 May 2019 @ 08:00

-

2 June 2019 @ 17:00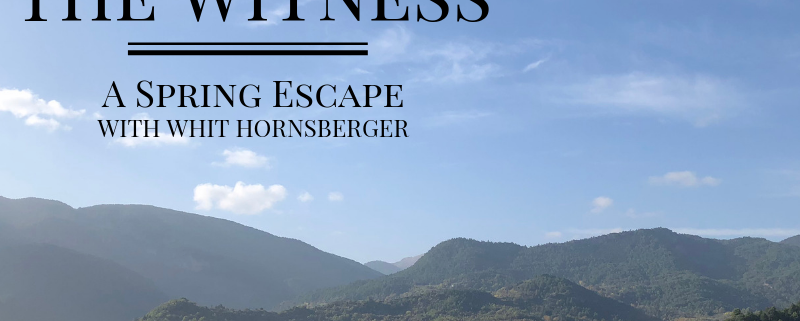 Join Canadian teacher Whit Hornsberger for Deep Spring weekend retreat. Cultivating inner peace through the experiential understanding of our true nature as pure awareness, and the intrinsic interconnectedness of this said witness-consciousness to the natural world.  By integrating deep practices of yogasana (vinyasa, yin), pranayama, meditation and philosophical discussion with off-the-mat teachings of permaculture, herbal wisdom, natural and sustainable building techniques, forest hikes and waterfall swims, our time together will catalyze our reconnection to self as pure awareness, re-establishing our rightful place amongst the interconnected web of life.
Set amongst the breathtaking natural beauty of the Greek mountains and the endearing family of humans and animals alike that call this beautiful permaculture retreat centre home, our time together will focus upon the healing wisdom of the natural world, the timeless teachings of Classical Yogic philosophy and the systematic techniques for embodied well-being passed down to us by this ancient tradition. Fuelled by organic, vegetarian, farm-to-table meals, practitioners will leave this retreat experience with a deep empirical understanding of how each moment of every day provides an opportunity to return home to the seat of witness-consciousness, reconnecting to the source and finding refuge amongst the changing conditions of life.
This retreat is created and designed for all levels of practitioner and specifically geared towards those individuals looking to reconnect to nature and the refuge of their own awareness.
Cost: €250
Includes: Three days / two nights with shared accommodation, three organic vegetarian meals per day, all yoga practices, permaculture & herbal workshops and pick up/drop off from Akrata.
We ask for a small deposit to hold your space.
Please email: info@re-green.gr for further questions or to confirm.
About Whit Hornsberger (Vancouver, Canada) is a student and teacher of the wisdom traditions of Classical Yoga and Theravada Buddhism. A former athlete, Whit found the path as a result of a career ending knee injury and the subsequent emotional and mental suffering inherent in losing one's (supposed) self-identity and self-worth. His daily practice and teaching methods stem from the traditional practices of Vinyasa Krama (Krishnamacharya) and Buddhist meditation (Mahasi Sayadaw). A passionate advocate of traditional teachings, Whit expounds the ancient wisdom of these lineages in a relevant manner, making them readily accessible to students at every stage of the path.  A lover of surf, travel and nature, Whit teaches internationally, offering classes, international workshops, retreats and trainings.