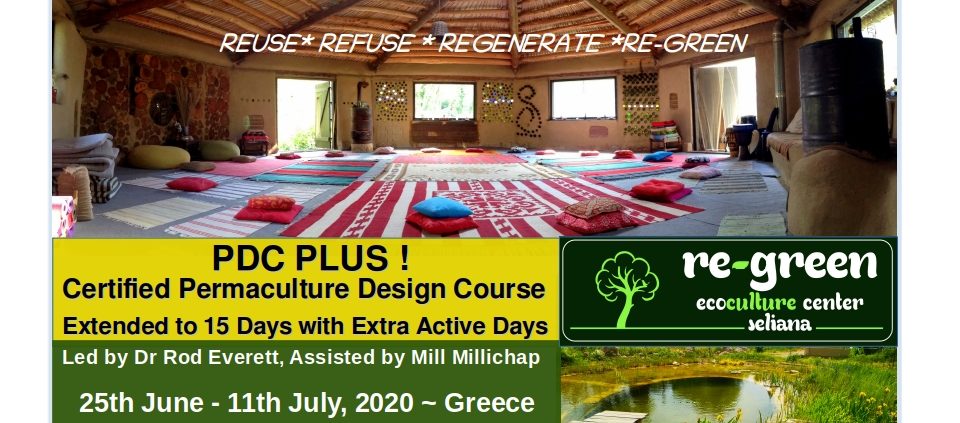 Certified Permaculture Design Course
Extended to 15 Days with Extra Active Days
Our certified course covers an understanding of the ethics & principles behind Permaculture Design. Enabling us to apply them in achieving a sustainable design answer for human activities. The location is at our beautiful, abundant Permaculture Farm & Ecoculture Centre – Re-Green. ( www.re-green.gr ). Suitable for all wanting to dive deeper into a regenerative natural and self reliant lifestyle.
Topics Covered 
*City Life
*Backyard Gardens
*Fruit Orchards
*Small scale farming
*Water Management
*Temperate & Mediterranean Climates
*Animal Husbandry
*Fruit Growing
*Healthy Lifestyle Practices
*Soil Life & Soil Building
*Energy Systems
*Forestry
*Natural Building
+ anything you ask & much more!!
By demand we have added 3 extra (hands on) active days to the curriculum!
Including:
Natural Building
*Build with Strawbales, Earthbags & Cob
*Plaster with lime & earth
*Decorate with natural paints
Organic & Biodynamic Food production practices
Plus mini workshops
Preserving produce
Herbal Wisdom & Remedies
Water Planning for disaster, replenish earths water body & rivers/streams,
natural flow and erosion prevention.
Resulting in a Full Permaculture Design Certificate
More than 80 hours Tuition – held in English with Greek translation when needed.
Lead by Dr Rod Everett, assisted by Mill Millichap
and guest greek facilitator Marios Desyllas,
About the teachers: Introduced to permaculture teachings during the 1980's Rod Everett is one of the senior and original teachers in Europe. As an organic sheep farmer & fruit grower in the hills of Northern England, he has developed a deep understanding of water in the landscape & regenerative land management. Along with an intuitive understanding of natural systems that support our human existence.
Rods great friend and co-teacher Mill Millichap brings his knowledge and skills of food growing for many years and living a thoughtful and simple life. From tree nursery to re forestry, protecting the land with sensitivity of understanding natures intelligent design.
Together they have taught in their creative style in many locations around Europe and as far afield as Egypt. The one guaranteed outcome is that it will be FUN!
Plus guest teacher Marios Desyllas who is a biodynamic farm consultant and long time supporter of permaculture teachings. He will be presenting biodynamics and supporting greek translation, non-violent communication session and offering his insights into the subtle workings of soil & natural systems. Probably he will bring his guitar too.
Course Fees
Tuition 560euro – including all meals & day out
Accomodation – entire stay
*Camping 150euro bring your own equipment or rent from us
*EcoGuest House 390euro ( shared accommodation) see the pictures!
We are intentionally trying to maintain a low price for this high quality course to be more accessible for all.
Whats Included?
15 full days of Tuition
Certified Permaculture Design Certificate
Accommodation
3 Vegetarian meals per day by our resident chef
Herbal teas & Fruits
A daylong field trip including beach and local greek taverna
Yoga every second morning with our Resident Yoga teacher
Pick up and drop off from Akrata – the nearest beach town
Use of all facilities, natural swimming pond onsite
and waterfall 15 minute walk.
Registration and questions
please email – info@re-green.gr
or contact Amber – +30 698 304 2909
if we don't pick up we are probably in the garden so email is preferred or keep trying!
This intensive course requires full attendance, therefore even local attendees are asked to stay on site. In addition the arrival day on the 25th of June, we ask everyone to be here no later than 17.00 – allow 3 hours from Athens airport – see arriving to re-green below for more details. Departure day the 11th of July feel free to leave anytime after breakfast.
Where, Who, Why, How – explore our website and see what we are all about in the mountains of Greece – www.re-green.gr
Arriving to Re-green:
Re-Green is located in the beautiful scenic village of Seliana, in the Peloponnese.
Easily accessible, it is 2 hours form Athens. Simply take the bus from the airport ( with one change in the center of Athens) to reach Akrata the closest beach town and we will have pick ups arranged. See more details here –
https://re-green.gr/contact-2/
If you wish to come one day earlier or stay one day longer feel free to message us to discuss the possibilities.
We hope to see you in the summer of 2020 to learn, connect and regenerate!
https://re-green.gr/wp-content/uploads/2019/11/PDCArtwork.jpg
720
960
Amber Buckley
https://re-green.gr/wp-content/uploads/2018/01/re-green_black.jpg
Amber Buckley
2020-06-24 22:00:00
2019-11-20 21:04:55
PDC Plus - Certified Permaculture Design Course 2020