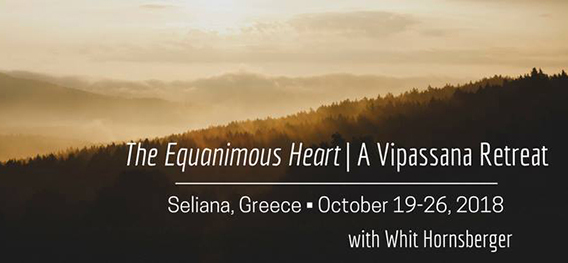 In this eight day silent retreat we will apply the systematic methodology of the revered Burmese meditation master, Mahasi Sayadaw. Mahasi's accessible, yet potent, scientific approach to the study of consciousness gives rise to transformative insight into the true nature of the mental (nāma) and physical (rūpa) phenomena, that which forms the bedrock of our human experience. Whit Hornsberger's experiences of intensive monastic meditation in Burma, combined with his studies of Yoga and other forms of Eastern Spirituality, have given him a unique ability to communicate to Westerners a classical approach to meditation, one that is deeply rooted in the profound Burmese tradition. This silent retreat will include sitting and walking meditation, daily yoga practice and interviews with the teacher.
The mindful practice of insight meditation (vipassanā) is considered to be the direct path laid down by the Buddha himself for the purification of beings, for the overcoming of sorrow and lamentation, for the disappearance of pain and grief and for the complete cessation of all forms and levels of physical and mental suffering (dukkha).
Through the application of mindfulness (sati), concentration (samādhi) becomes increasingly more refined, providing a stable platform for the intimate investigation into the phenomena of mind (nāma) and body (rūpa). Through patient endurance and ardent effort we begin to find refuge within the ever increasing equanimity of the heart-mind, a spacious, unshakable vantage point from which to see into the ultimate reality of our psycho-physical embodiment. Through direct-felt experience insights arise, propelling the practitioner to a compassionate understanding of the laws that govern life and subsequent wisdom capable of freeing each of us from the self-generated suffering of mind.
As knowledge is born that all psycho-physical phenomena are transient (anicca), unmanageable and beyond our control (anattā), attachment (taṇhā) to them dissolves, dispelling the fires of greed (lobha) and aversion (dosa). In the wake of their cessation, the heart-mind becomes spaciously equanimous, liberated from suffering, beautified by insight. The great Burmese Master Mahasi Sayadaw's approach to meditation is very clear, very precise and 'to the point,' faithfully adhering to the method of the Buddha in his own successful search for Enlightenment.
The setting in the mountains of the Peloponnese, Greece at Re-Green Ecoculture Centre offers connection to nature and the surrounding silence of abundance.
For more information & images please visit:
https://www.facebook.com/events/1527208337333084/?active_tab=discussion
Investment includes:
7 nights shared accomodation in spacious guesthouse with woodstoves & coconut bedding
3 Vegetarian Organic meals per day
Guidance/ teachings from Whit Hornsberger
Use of all facilities including Temezcal natural steamhouse session
Pick up & drop off from Akrata – the nearest beach town
Earlybird registration before 15th August
€490 per person + dāna***
Full Price after 15th August
560€ + dāna***
***What is Dāna?***
The Buddhist teachings have always been considered to be priceless and thus have traditionally remained outside the realm of commodification. In Whit's many years as a student and teacher of vipassāna he has always received his transmission of the teachings from his teachers by way of dāna or the practice of generosity and we are honoured that he has decided to offer this retreat at Re-Green no different than those he teaches in his home country of Canada, by dāna.The practice of of vipassāna is designed to reduce the conditioned defilements of the mind – greed (lobhā), anger (dosa) and delusion (mohā).In the words of revered meditation master Mahāsi Sayadaw:"The aim of this practice and its greatest benefit is release from greed, hatred and delusion, which are the roots of all evil and suffering." Thus the practice of giving from the heart (dāna) was applied to the tradition by the Buddha to help release the heart from the shackles of greed. Whit is adamant that the future of our species and our planet depends on dissolving the greed that has become so inherent in our societies. The offering of this retreat to you by way of dāna and your support of the teachings by way of dāna is not only of benefit for those attending retreat but is placing faith in each other that we can move in a more altruistic direction as a human family.
How much should I give for dāna?
This is a frequently asked question that is difficult to answer. When you consider that the teacher receives no wage, no payment other than your basic offering, all in return for the service of helping you, for giving teachings, private counselling and guidance, then you should be motivated, we think, to give very well indeed.
Offering Dana is a personal spiritual "practice" and thus requires a deep look into yourself — what do these teachings really mean to you? How valuable are they? What does it mean to you to be able to be a part of a tradition based on generosity? What can you truly afford in expressing your gratitude and support for what your teachers offer to you and the world? At the end of the retreat you will be given an empty envelope. Please use this opportunity to show your gratitude. Your donation is private and, if you prefer, anonymous.
Group packages available, please ask.
A deposit of 150€ is asked to hold your place.
**this retreat is offered to 20 participants only
For registration / more information email ~ info@re-green.gr
or phone – Amber +30 6949122813
More on Whit Hornsberger
Facebook – https://www.facebook.com/soularchyoga
Website –  https://www.soularchyoga.ca/
Whit Hornsberger is a driven, passionate and inspiring being.
Driven by an innate belief that each of us is capable of radical, spontaneous evolution, Whit's unrelenting determination and commitment to applying and sharing ancient wisdom as a catalyst for individual and in turn social change has seen him become a highly sought after teacher all around the world.
Through direct personal suffering Whit has devoted his life to the powerful, life-changing and for him, life-saving wisdom of the ancient traditions of Classical Yoga (Patañjali) and Theravada Buddhism. His life has become a medium through which he humbly transmits the teachings of the past in a colloquial manner to students from all walks of life, emphasizing that freedom from suffering is not only possible but is an endeavour that ought to be taken up by each of us.
Whit is an ardent student, whose commitment to awaken beyond the limitations of his own conditioned mind has led him around the world, from monastic experience in Myanmar (Burma) to dedicated study in revered yogic institutions of India (Kaivalyadhama), solo retreats in the forests of Canada and the United States, urban study with senior teachers within the Krishnamacharya lineage (Ramaswami) of traditional Vinyasa Yoga and seemingly everywhere in between.Those dedicated efforts have resulted in a teacher who embodies the path with integrity and authenticity, whose compassion and loving-kindness for each student he meets is palpable and whose drive to create social change and a better future for our species and planet is evident to anyone who has the fortunate opportunity to study with Whit.
International classes, workshops, intensives, retreats, conferences, online practices and trainings are the ground from which Whit guides practitioners towards embodied well-being. His teachings faithfully adhere to the Vinyasa Krama method of the father of modern yoga, Sri T. Krishnamacharya, the Mahasi Method of vipassana (insight) meditation passed down by the late, venerable Mahasi Sayadaw (Burma) and his unique integration of Buddhist psychology with the contemporary practice of yin yoga. Whit firmly believes that in order to move forward we must look to our past and the wisdom of our ancestors. As an internationally recognized teacher Whit continuously ensures that he honours the ancient wisdom traditions that saved his life, emphasizing through action that he is simply a medium through which the knowledge can continue to be past down, undiluted, for generations to come.